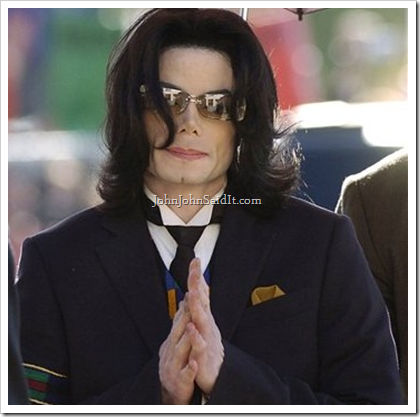 MICHAEL JACKSON is facing a $20 million lawsuit from a concert promoter after failing to join his siblings for a JACKSON 5 show.
The Thriller hitmaker's manager signed a contract on behalf of the pop superstar to perform with sister Janet Jackson and brothers Jackie, Tito, Jermaine and Marlon at Cowboys Stadium in Arlington, Texas next year (10).
The deal with AllGood Entertainment banned Jackson from negotiating any other gigs - and bosses have requested a U.S. federal court halt his string of comeback summer shows in London, according to TMZ.com.
AllGood bosses reportedly met with the 50 year old and his father Joe at a Beverly Hills hotel on 16 May to renegotiate, but Jackson still refused to participate in the show - allegedly because of plans to air it on a pay-per-view TV service.
Company boss Patrick Allocco resubmitted his offer for the singer to perform with the Jackson 5 and Janet without the pay-per-view clause, and threatened to sue if the pop star refused to sign.
But Jackson has not agreed to the deal, and the company is suing for damages in excess of $20 million. Bosses are also asking the judge to the halt the pop star's London concerts, scheduled to kick off in July.
Related posts:
Michael Jackson sued for $44 million
Michael Jackson worth more dead than alive
Michael Jackson still performing at concert