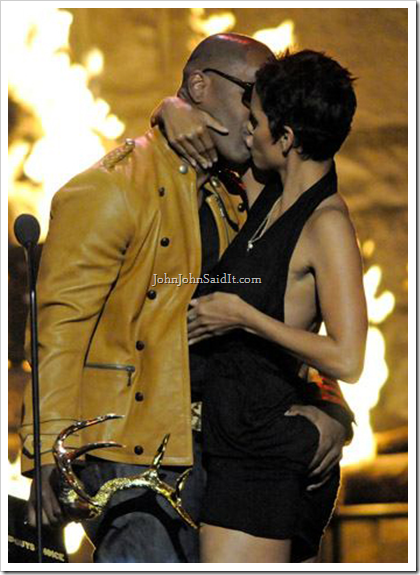 JAMIE FOXX has brushed off critics of his impromptu kiss with HALLE BERRY at a recent U.S. awards ceremony – insisting their lip lock was a prank conjured up by the actress.
Foxx presented the sexy star with the Hottest Girl On the Planet award at Spike TV's 2nd Annual Guy's Choice Awards in Los Angeles last month, and they shocked the audience with a passionate on stage embrace.
The actor/singer is still mesmerized by their steamy session, but insists he didn't step out of line by kissing the star – who shares a 15-month-old daughter, Nahla, with partner Gabriel Aubry.
Foxx explains, "It was a joke. First, I want to let everybody know that I respect Halle Berry and I respect her relationship. But after she won the Oscar, Adrien Brody came up and laid a little tongue on her. So she decided to get me back, which I didn't mind at all."
And the Ray star admits he was so nervous before pulling Berry's prank, he nearly backed out at the last second.
He adds, "I almost froze but I said, 'Think quick Foxx,' and I got into it… she really gave it to me and I appreciate that."
We're still wonder what Halle's 'baby-daddy' thought of that lil' joke.
Related posts:
Halle Berry and Jamie Fox get their freak on
Why Halle Berry gave-up on black men
Halle Berry likes being a 'baby-mama'