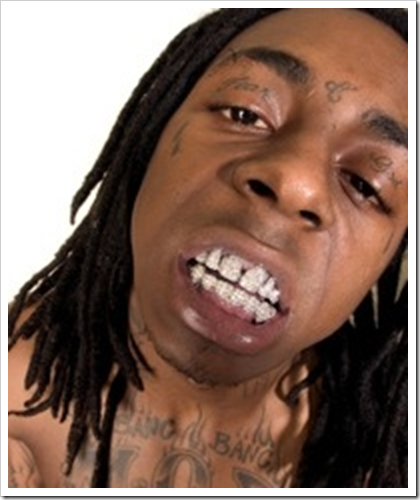 Rapper Lil Wayne had a grill fitted on his teeth, after rotting them away eating too much candy.
The Lollipop hit maker confesses the main reason he wears custom made grills is to disguise serious dental hygiene issues.  He then goes on to confess to a serious "sweet-tooth" addiction that has plagued his teeth for years.
Said Wayne, "I like Skittles and Starburst, but I have bad teeth due to too much candy, so I got them covered with a grill. It doesn't come out."
Unfortunately for Lil Wayne, his grill may be leading to more disastrous dental hygiene.  According to dental reports, unless the expensive mouth piece is properly cleaned everyday, it could lead to gingivitis, swollen gums, gum bleeding and infection of in the mouth.
Said one dentists, "Those type of teeth fixture require more regimented cleaning and flossing because they have a tendency to house large amounts of bacteria.  No matter how much money we make, there's no substitute for basic hygiene".
Related posts:
Lil Wayne loves Kobe…fa real
The real reason Lil Wayne has a grill
Lil Wayne sentence postponed after threats from prison