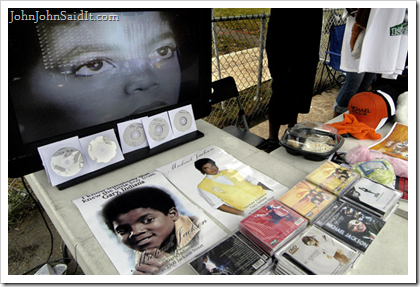 Michael Jackson will not be buried until his brain is returned to his family.
Michael Jackson will not be buried until his brain is returned to his family.
The 'Bad' singer's brain was removed for toxicology tests to determine the actual cause of death, after he passed away of a suspected cardiac arrest last month, aged 50.
Although his funeral was held on Tuesday his body is lying in state in a gold coffin and Michael's family will not commit him to the earth until the tests are complete.
Assistant chief coroner Ed Winter said: "As soon as we are done with the brain, we'll return it. The last I heard, they are not burying the body yet."
It is unclear where the body presently lies, but police have ruled out reports it has been returned to the 'cemetery of the stars', Forest Lawn Cemetery in Hollywood, where the family held Tuesday's private service, before it was taken across the city for the televised memorial concert.
The last resting place of Michael's body has not been finalized and his family are split as to where he should be buried. His brother Jermaine is said to want his brother to lie at the Neverland ranch, which was his home for many years.
His mother Katherine disagrees, however, arguing the ranch is "tainted" because it was searched by police for evidence relating to child abuse charges brought against the star, of which he was fully acquitted.
A source close to the Jackson family said: "Michael left Neverland for good, never to return.
"He felt violated by the law after his molestation trial. He felt this place he had built had been tainted.
"Katherine is continuing to be her son's protector even after his death."
Jermaine, 54, is adamant the best place for his brother is at the house he created, adding that he can feel that it was built "with love".
He said: "I want my mother to come back here and feel what I feel. He built this place with love and you can see it and feel it."
If the family do decide to bury Michael at Neverland they will have to apply for a special permit as burial outside of an official cemetery is not usually allowed under local laws.
Meanwhile, Dorothy Gaspar – who designed a number of gloves for Jackson during his lifetime – has revealed he will be buried wearing his trademark single white glove.
Gaspar says Michael's sister LaToya chose a white leather glove covered in Swarovski crystals which Gaspar made for Michael over 10 years ago.
Related posts:
Michael Jackson finally buried
Threats to steal Michael Jackson body
Michael Jackson afraid to go home