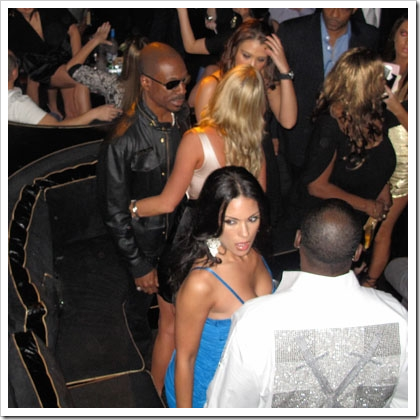 Comedian caught in the club having a little too much fun.
Eddie Murphy continued his attempt to recapture his youth during a drunken grinding session at Bank Nightclub in Las Vegas this weekend.
According to witnesses, Eddie entered the club with "some blonde chick who was half his age…and he ended up taking her and another brunette home that night."
Murphy who is 47 years old has been a main-stay in clubs throughout the country since getting 2 divorces in less than 3 years.  Said one Hollywood agent, "He just needs to get it out of his system, but being in the tabloids could hurt him when it comes to those Disney and kids movies".
Check out more pictures from Eddie's night in the club.
Related posts:
Eddie Murphy's biggest fear
Eddie Murphy wishes he used a condom
Eddie Murphy refuses to meet his daughter