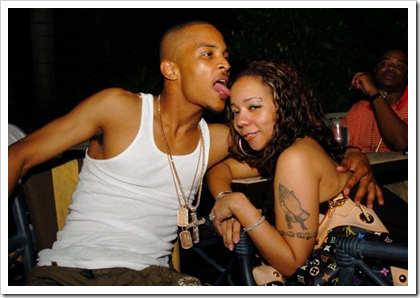 Rappers keeps his "baby-mama" on a short financial leash.
An unpaid attorney bill stemming from a child custody case, had T.I. in court and shed some light on how he handles financial affairs with his 'baby-mama".
Lawyers for LaShon Dixon, who has two sons with T.I., claim the rapper owes $8,000 for an attorney bill in her child custody case.   Apparently T.I. was ordered by the court to pay the attorneys fees but the rapper refused to pay the bill based on prior financial arrangements with Dixon.
Dixon's cousin claims T.I. "keeps Lashon on a fixed budget and he won't put more money on her card…no matter what".
Apparently, in addition to $3,000 a month child support, the Southern rapper "unofficially" contributes an extra $10,000 per month on a debit card to provide "the little things for his kids."
Therefore when the $8,000 attorney's bill came due, T.I. demanded that Dixon pay for her own expenses with the money he had already given her.  Needless to say, she refused and the matter was taken to court.
Many have speculated as to why the rappers continues to give Dixon extra money even though it is not required by the courts.  Some concede that Dixon has damaging information on T.I., and he would rather pay her than have his dirty laundry in the media.
T.I., who has 5 kids with two women, will begin a one-year prison sentence in March on federal weapons charges.
Related posts:
Lil Wayne addresses baby-mama criticism
Bobby Brown goes for baby #5 and baby-mama #4
50 Cent's Baby Mama tried to take half his fortune