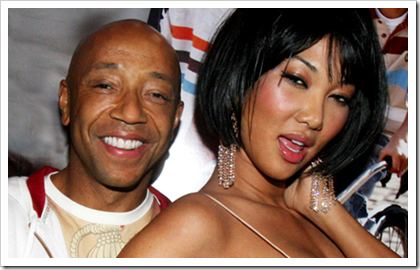 Rap mogul Russell Simmons and his ex-wife Kimora Lee Simmons are both free to wed again.
The high profile couple finalized their divorce agreement in which Baby Phat designer Kimora Lee obtained sole legal and physical custody of the couple's two young daughters.
Several sources confirm that Russell has visitation with the girls for one week every eighth week, with additional summer vacation and holiday time. 
Russell's financial obligation were not revealed, but it is speculated that in addition to $10,000 per month child support, a substantial trust fund is setup in each of the girls names.
Kimora Lee and her new boyfriend, actor Djimon Hounsou, are expecting
their first child together, and it is suspect that the couple plans to wed immediately following the delivery.
The Def Jam co-founder has been linked to several super-models over the past year, but it makes us wonder if Uncle Russell would consider going on a reality show to find love.  Just a thought.
Related posts:
Kimora Lee got married before her divorce was final
Russell Simmons breaks down hip hop and fashion
Russell Simmons launches clothing line for poor folks