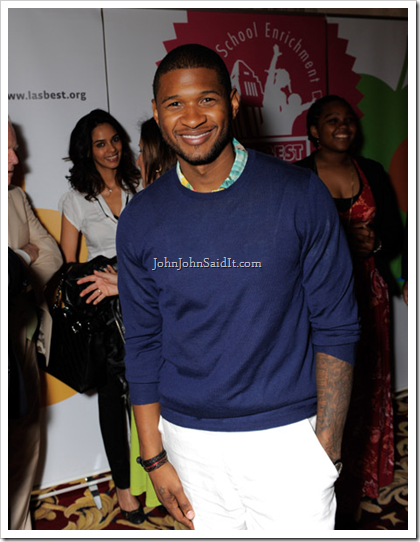 Usher's estranged wife had no idea he planned to divorce her.
Tameka Foster - who has two children, 18-month-old Raymond V and seven-month-old Naviyd Ely, with the R'n'B star - was shocked by his decision to leave her because they were "intimately together" just days before he started legal proceedings last month.
E! Online reports: "Usher's soon to be ex-wife states in a new court filing that she and the R'n'B star have not been separated since July 2008 and, in fact, were 'intimately together' less than a week before he started divorce proceedings."
Legal documents filed in an Atlanta court on Monday by Tameka's attorney claim she had "every reason to believe her marriage was intact".
Usher's estranged spouse now reportedly wants him to pay all of her legal fees surrounding their divorce and to continue to financially support her and their sons once the split has been finalized.
The 30-year-old singer filed for divorce from his wife of two years in Atlanta, Georgia, on June 12, claiming they had been living apart for almost a year.
The documents stated there was "no reasonable hope of reconciliation" and the relationship was "irretrievably broken".
He has also filed for joint custody of Usher V and Naviyd.
In February, Usher was shocked to discover his wife had suffered a cardiac arrest while undergoing a cosmetic procedure in Brazil because "had no idea that she was there to have surgery".
Rumors their marriage was on the rocks had been circulating for months after the star was spotted partying with a number of women.
Related posts:
Usher can't recognize a hit song
Shaq divorce almost final
Usher is back with another hit song