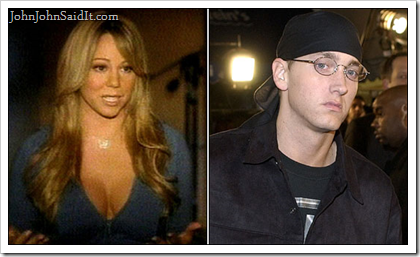 MARIAH CAREY has postponed the release of her new album for a second time – after bad PR resulted from her feud with Eminem.
The singer prompted speculation of a delay on Wednesday when she pulled out of a scheduled televised concert in New York on 28 August, when she was expected to showcase tracks from the album.
On Thursday a statement from her record company confirmed the release has been pushed back to 29 September.
It reads, "Mariah is putting the finishing touches on her newest album, Memoirs of an Imperfect Angel, and we have shifted all of our TV and promo appearances to coincide with the new release date of September 29th. We can't wait for the fans to hear the new album."
It's not the first time Carey has delayed the release; but music executives were concerned her recent feud with Eminem would affect public reception of the new album.
Recently Eminem promised to release explicit photos of the couple on the same day Mariah's album is released.
-
Eminem needs to chill…but Mariah bit off more than she can handle.  And where is Nick Cannon…not so tough after all?
Related posts:
Lil Wayne's rock album is 'not good enough' to release
Eve blames Dr. Dre for failure to release album
Rapper Drake plans lawsuit over album release