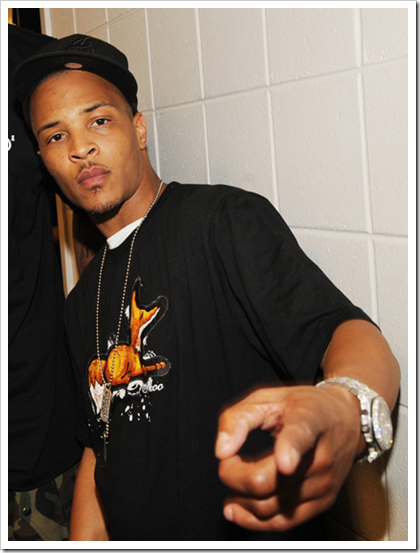 Newly-incarcerated rapper T.I. is also a newlywed - the hip-hop star reportedly tied the knot with his long-term girlfriend in a secret ceremony before heading to prison.
The Live Your Life hitmaker - real name Clifford Harris, Jr. - married Tameka 'Tiny' Cottle before immediate family members on an island off the coast of Miami, Florida on Friday, according to The Urban Daily.
But the hip-hop star was only able to enjoy married life with his new wife for a few short days - he checked himself into the Forrest City federal prison on Tuesday to begin a 366-day prison sentence for his conviction on illegal weapons possession charges.
Former Xscape member Cottle has been with Harris since 2001 and she is the mother of two of his sons - Major and King.
T.I.'s surrender comes just days after a judge rejected his request to be housed nearer to his family home in Atlanta, Georgia, and two days after he bid farewell to fans at his last concert before turning himself in to police.
-
He just wanted conjugal visits.
Related posts:
Talib Kweli gets married
Did Lil Wayne get married?
Somebody married Mike Tyson!