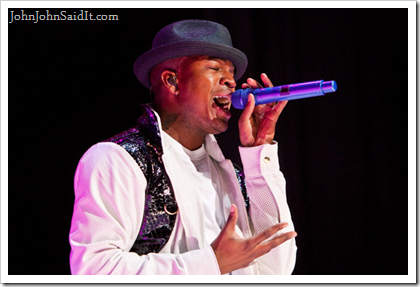 R&B star NE-YO has been slammed by nightclub bosses after allegedly shortchanging fans who had paid to see him perform.
The Grammy winner was expected to perform five songs and meet VIP guests at Norwich, England's Mercy club on Sunday night - but a statement on the club's website claims he turned up at 2am and walked out after singing just one-and-a-half songs.
The statement read, "Mercy nightclub would like to apologies to all persons that attended the Ne-Yo event. Ne-Yo was booked via an outside promoter and committed to a midnight performance of 5 tracks (minimum) and a meet & greet for VIP customers."
"For reasons beyond our control the artist arrived on stage at 2am, performed one song and left without reason or notice. Full refunds will be issued within 28 days."
But just hours later, the statement was replaced with another message retracting the original - prompting fears ticketholders won't get their money back.
The new release reads, "Due to legal reasons, Mercy Nightclub has been asked to retract the previous statement publicized on our website. The Ne-Yo event was organized by an outside promotion company.
Concert goers booed the signer throughout the entire performance and some demanded refunds that same night.  Ne-Yo's entourage quickly exited the venue after violent threats and even death threats were yelled from the crowd.
Related posts:
T-Pain gets death threats…cancels show
Kanye disses the US?
JESSE JACKSON JR's house burned and death threats