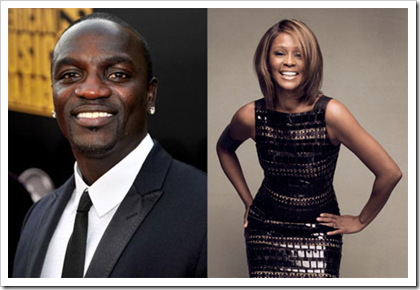 Whitney Houston was apprehensive about working with Akon.
The singer wanted to recapture the sound of her 1999 hit 'My Love Is Your Love', which she worked on with Wyclef Jean, on her new album 'I Look To You', and admits she wasn't comfortable when her label president and mentor Clive Davis suggested she teamed with Akon.
She said: "When Clive told me I would be working with Akon, I thought, 'Hmm, interesting, um, all right.'
"I wanted the record like 'My Love Is Your Love' with an island feel. I wanted an island record because 'My Love Is Your Love' is so huge and it has its own fashion with Wyclef. I wanted that feeling, but I didn't know who could do that. And Clive came and said, 'Akon is the guy that we're going to work with.' And I was like, 'OK, Akon. OK, I can deal with that.' "
Even after their first meeting, Akon didn't manage to completely quash Whitney's reservations.
She added to us, "I was asking him, 'Did your mother name you Akon?' And he said, 'No, it means a convict.' And I thought, 'Oh, God. OK, all right, I can handle that.' He's a gentleman. He did his work very well. We did it very quickly, very diligently, and I'm very proud of that record. It's a great record."
In contrast, Whitney jumped at the chance to work with Alicia Keys.
She explained: "When she performed at one of Clive's parties the year before last, I kind of looked at her, and it was when she had the 'No One' record out, and it was the only record that came on the radio that inspired me.
"I thought, 'I got to get to know her. I got to have a camaraderie with some of the people that were on the label where I came back home to.' I walked over to her, and off the cuff said, 'Hey, do you think you could produce me?'
She said, 'Yeah, I think I can.'
"Then I performed a year after, and she came up with the song 'Million Dollar Bill,' and I said, 'Wow, incredible.'
-
Its funny that Whitney Houston was scared of Akon when she was married to crazy Bobby Brown for years…go figure.
Check out their song…its cool.

Whitney Houston feat. Akon - "Like I Never Left"
Related posts:
Whitney Houston's comeback is official
Whitney Houston acting strange
Whitney Houston fights back against journalist