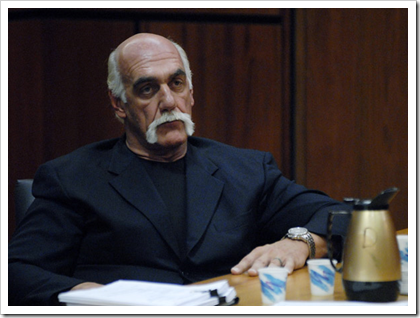 Former wrestler HULK HOGAN has been quick to clarify comments he made in a new Rolling Stone magazine interview after causing a stir with his thoughts about the O.J. SIMPSON murder trial.
Incarcerated Simpson was acquitted of killing his wife Nicole and her friend Ron Goldman in 1993, but, like many people, Hogan thinks the fallen sports hero got away with murder - and in the new article Hogan admits he can understand what drives a man to kill his wife after battling his ex Linda in the divorce courts.
In the piece, which will appear in the new issue of the publication, the tough guy, real name Terry Bollea, admits he was tempted to attack his wife "like O.J."
Hogan says he is furious Linda is allegedly dating "some shaggy-haired pool boy 30 years her junior," adding, "I could have turned everything into a crime scene, like O.J., cutting everybody's throat.
"You live half a mile from the 20,000-square-foot home you can't go to anymore, you're driving through downtown Clearwater and see a 19-year-old boy driving your (SUV) Escalade, and you know that a 19-year-old boy is sleeping in your bed, with your wife… I totally understand O.J. I get it."
A representative for the wrestling superstar says, "Hulk in no way condones the O.J. situation. As part of a larger conversation, he referred to it to exemplify his frustration with his own situation."
But Linda Hogan isn't taking the comments in the magazine lightly, telling U.S. news show Entertainment Tonight, "Hulk's serial cheating destroyed our marriage, our family and our future. Sadly, his recent comments remind us that his definition of fair is much different than what the law dictates."
Her rep says, "We are taking these recent comments seriously… We have always maintained that the fear that Linda has had to live with comes from the rage and instability much too often associated with pro wrestlers."
-
Related posts:
Hulk Hogan's wife wants more money after OJ comments
Hulk Hogan and his wife continue feud
Michael Jackson turns into the Incredible Hulk