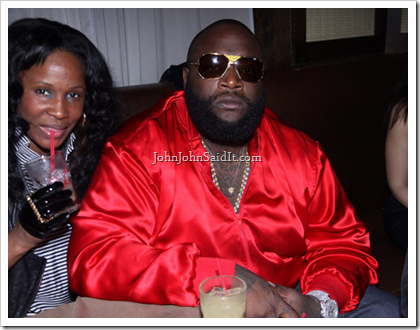 Rapper RICK ROSS has signed up to endorse a new tequila - after likening himself to the potent liquor.
The hip-hop star, alongside his Triple C crew, will front a campaign for 1800 Tequila, which brands itself as the only "100 proof clear tequila on the market".
And Ross believes he is the perfect spokesperson for the brand - insisting the drink is the "big boss" of the booze industry.
He say, "Of all the tequilas out there, the 100 proof 1800 Select Silver is the 'big boss' and the only tequila I would put the Rick Ross name behind. "
"1800 Tequila is a brand I'm really excited to grind and build with, and as I keep pumping out the hits, topping the charts, and discovering new talent like my crew Triple C's - 1800 Tequila will be rising to the top with me." 
And the spirit company's bosses are also adamant the star is the best guy to represent the brand.
A spokesperson for the firm says, "Rick Ross and Triple C's were an obvious choice for us. 1800 Select Silver is a serious tequila for the serious tequila drinker. It's making a huge splash in the tequila market right now, just as Rick Ross is shaking up the music industry."
Related posts:
Why did Rick Ross lie…for so long?
Rick Ross kicked out of Bermuda
Rick Ross starts 'fat-boy' clothing line