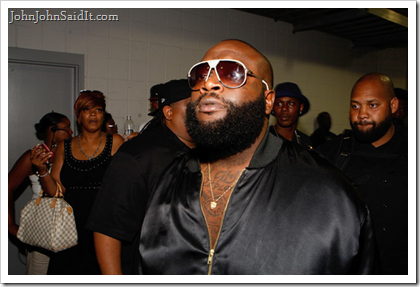 RICK ROSS was forced to scrap a concert in Bermuda on Saturday after government officials denied him a work permit…guess why?
Rick Rosss was due to perform at the Cup Match Extravaganza but the country's Immigration Minister David Burch refused authorization because Ross did not "possess good character and conduct".
But the show's promoter, Kendricks Zuill, is convinced Burch was confusing the star with infamous drug trafficker Ricky Ross.
Zuill says, "I've been trying to convince them that he is a man of good conduct. I was providing them with information, but all they told me was that the Minister was not satisfied. It's something personal."
Refunds are being issued to more than 500 people who purchased tickets to the show.
-
I guess there are down falls to naming yourself after an infamous drug lord.
Related posts:
Rick Ross Stole Ex-Girlfriend's Car
Rick Ross is now an alcohol salesman
Why did Rick Ross lie…for so long?