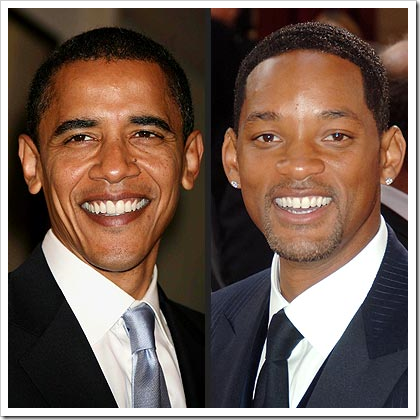 President-elect may already have movie deal in the works.
Rumored reports out of Hollywood claim that Will Smith has already signed a deal to create a new Obama bio-flick.  Apparently script writers begin secretly putting a film together with a wish-list cast last February when Obama stated in an interview that he would nominate Will Smith to portray his life on film.
Despite several studios attempting to bid on the movie, there still isn't a consensus of what should be covered during the film. 
Said one studio executive, "We would pitch this as a trilogy.  One movie showing his rise to President, one showing his actual Presidency, and the last one would show how Obama and the world is different after his Presidency. Nothing like this has ever been done."
Said Obama, "Will and I have talked about this because he has the ears!" Smith, who was initially mute on the subject, recently said, "If I am ordered by my commander in chief to star in a film about him, I will do my duty as an American."
Related posts:
Will Smith blamed for disappointing '7 Pounds' movie
Denzel lands Obama movie role
Will Smith shakes off '7 Pounds' haters